Below, a piece of sculptures expresses the human pride and paranoia, and this also shows the basic attitude with which atheists and evolutionists proclaim their opinions. However, when we think about and discuss the following topic, the complicated theory and associated questions created by atheism and evolutionism will become very simple, so people who have a basic logical thinking can understand that the world did not come from evolution, but it was created by an everlasting God. Here the meaning of a simple question indicates that people who have no educational degrees but can tell Moon is a rounded sphere, and salt is salty, and sugar is sweet, are able to participate in the discussion of the following topic. Through the discussions, we need to understand the relation between order and chaos is not artificial, and it cannot be changed by human consciousness, but it is the objective and truthful relation.
THE TRUTHFUL RELATION: CHAOS CANNOT BECOME ORDER UNLESS THERE IS A STRONG EXTERNAL INTERVENTION. EACH SYSTEM OF ORDER IS NOT FROM ITSELF, BUT IS CREATED BY THE FORCE WHICH CAN CONTROL THE SYSTEM. IF THE CREATOR DOES NOT MAINTAIN THE ORDER, IT WILL PLUNGE INTO CHAOS. ALL ORDERS SHOULD BE UNITED IN HARMONY; AND THERE SHOULD BE A RULER WHO IS ABOVE ALL ORDERS AND OUTSIDE THE LIMITATION OF TIME AND SPACE, SO HE CAN CREATE, REFORM, RENEW, AND MAINTAIN ALL ORDERS. THIS RULER IS THE EVERLASTING GOD REVEALED BY THE BIBLE.
LET US DISCUSS THIS TOPIC FROM SEVEN ANGLES: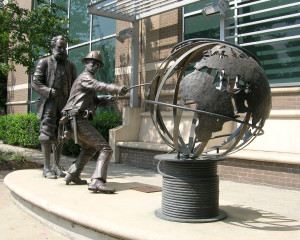 First, behold, the universe and the solar system were not generated by a great explosion; because the explosion can only cause chaos, and it is unable to form an order of the natural environment. If you do not believe that, you may try a test: make a great explosion in a forest, see if it produces a beautiful park or residential community or a block for business. The answer only is: the explosion just destroyed original order and natural form. Maybe someone says, look at how vast the universe is and there are numerous planets keeping changes, and there are some meteors crashing down, which seem to be the performance of disorder. But this kind of thing is the performance in a normal order system; such as a typhoon on Earth, although its performance often goes beyond human anticipation, but it has never exceeded and destroyed the natural and ecological order of the earth.
Second, the Earth is the only planet with life, and therefore it has a general system of order and sub-orders to safeguard the lives on the earth. Now the mankind has found many laws of nature and summed them up, which are the human understanding and knowledge upon this system of order. If this system is damaged, the lives and human beings on the Earth will be destroyed. Fortunately, the mankind today has no ability to damage the system of order. But inside this system, they kill animals, destroy plants and trees, and fire with each other; however this kind of destruction works on a single life system (a human body). It is worth mentioning here, people speculate that a small planet had crashed onto the earth in a long time ago, therefore many ancient animal, say dinosaurs, were extinguished (on the study of dinosaurs, please read Dinosaurs Introduction). But did you ever wonder, the result of such a devastated collision may make the Earth's orbit to deviate, and a little bit of the deviation will be a certain damage or total destruction of the Earth's ecosystems, and maybe it will become the second Mars. As a result, how did life and human beings came into being again? Let us think about the relations between the earth and moon as well as satellites. Because people understand and master the natural laws, they can send satellites to space, and they can maintain satellites on their orbits by means of their power systems; otherwise, satellites will fall onto the earth. Well, where is the power system of moon? Why did moon not fall onto the earth, or why did moon not deviate from its orbit? You may think about this mystery from the relation between Earth and Moon. The answer is that there is a higher superpower of orders and He controls everything.
Third, the human society from the beginning of the family order and tribal order developed into the order of nations, and during that process, they need to have traditional attitudes and mandatory help. If we abolish the courts, prisons, and other institutes of law enforcement, what kind of results will come into the human society? Do you like to live in a super zoo for the weak falling victim to the strong?
Fourth, the current transport needs its order. If the elimination of all traffic signals and signs, and no one directs traffic system, people can drive cars and walk in an orderly manner? The result is that traffic accidents occur on a large scale, and people cannot find help. Let us see another example of a large airport that stopped operations command system, how the airplanes will be ups and downs? Who dare to drive or are on board an airplane going through such an airport?
Fifth, the modern life is inseparable from the order. If the power and water are stopped, and no one takes care of rubbish, how do people live?
Sixth, the human body also has a complex order; if not care, they will fall ill. If the fever is several degree high than the temperature of a human body, people will die. If the human body is attacked by a lethal weapon, his or her internal life system will be hurt with a fatal result or serious damage. Therefore, he or she needs immediately treatments; otherwise, the physical life will be end.
Seventh, the hearts and souls of people also have orderly things. Everyone likes peace, and no one likes to live in day with fear and worry. If people have a problem of their souls and hearts, for instance, a mental patient, people do not see this kind of patients as normal people; because he or she has lost the spirit of normal order which is rational thinking and the ability to control behavior. And even the courts cannot charge the patient according to his or her making some damages. To further expand our thinking, why do people hate stink and love fragrance? Why do people like beauty and pursue it? Why do people love to enjoy the beautiful music? All of them relates to the order of the human soul.
In short, we can find many orders and the relations among them from the studies of the nature and all fields of the mankind, and we may get a better understanding upon the wonderful world created by God. Then we are sure that these orders did not naturally come from chaos, but they were originally created by God and He gave human being the ability to know some of those orders and to apply them, and also enable people to create and maintain the order of human society.
Challenging task: If you do not believe the truthful relation between order and chaos stated by H. Moses Sun, please find out any kind of evidence from the nature and the mankind to indicate that orders can spontaneously formed from chaos without any influence from external forces and external factors.
Evolutionists often said: "competition with natural selection and survival of the fittest." In fact, this statement of "natural selection" and "fittest" tells us that human beings indirectly did their tacit recognition to the orders and the changes of orders or some eternal force in history, to which they did not know with their ignorance. For example, Noah's flood impacted on the order of the Earth's natural ecology and brought new changes; and then those huge animals who did not suit the new order disappeared, and those survived, including human beings and animals, had to adapt to the change and new order in the course of their own physical system had some changes in compatible with the new order.
However, when Evolutionists can not answer all those challenging topics above, but they are still unwilling to recognize the truthful relation between order and chaos explained by H. Moses Sun, what to do next? It can be said that there is no way. Just like the sculptures above, it reflects the pride of Evolutionists and the paranoia of their ignorance. If they say that the moon is the triangle and the salt is sweet, we cannot change their stubborn ideas. Some atheists see the shortcomings of the theory of evolution, but they dislike admitting the presence of God. And they speculate there is a presence of external forces for domination. Then they should continue their speculation with logic thinking: since this force can create and dominate the human beings who have emotion and wisdom, He is not an abstract force without emotions, but He is the dominator with more emotions, wisdom, and power. Fortunately, our ancients already knew Him, and used their own words to call Him as God. The Bible tells us God's name with two meanings: everlasting and savior.
H. Moses Sun wrote this article. The second edition in Chinese was published on March 20, 2008. The edition of translation was published on March 26, 2008.
Friends, we are glad that you read this article and hope it may help you. If you like to believe Jesus, please click here: "Way of Eternal Life." We expect that you would like to tell us about your ideas: info@livinginjesus.org. So, we will edit and add good points to this article, which may help more people by opening their hearts. If you like to support our ministries, please click here: "DONATION", send your gift to us. You may make a copy of this article or forward this article to your friends and relatives, or post it on your web page of a social network. If you publish this article on any magazines or papers or websites, please indicate that this article is originally from the website of www.exposingmysteries.org; because H. Moses Sun has the copyright of all articles published on that website. We wish you could join hands with us to spread the truth of Jesus through Internet, and we hope more lost peoples may get the eternal salvation!